🎙 V.O. Gym 1-1's are a totally safe space to make "mistakes", learn, practice skills and grow into the VO Artist you want to be! 
Sessions with us are tailored uniquely to your voice and your goals. With professional experience in all sides of the Voice Over Industry, Abbie will guide you through the process of auditioning, booking, prepping and SMASHING Voice Over jobs in all of these areas of the industry. All whilst learning what goes on behind the scenes and how to prepare in the best way you can to feel super confident and versatile.
In our 1-1 sessions, Abbie guides you through the V.O. Gym Workout to strengthen your skills before you explore a range of scripts in whichever strands of the industry you wish to explore; Commercials, audiobooks, animation, video game voicing, documentary, narration, corporate etc. and you leave with homework scripts to practise outside of class. You'll learn practical, industry tricks and tips too, setting you up, the best way possible, for working professionally in this industry.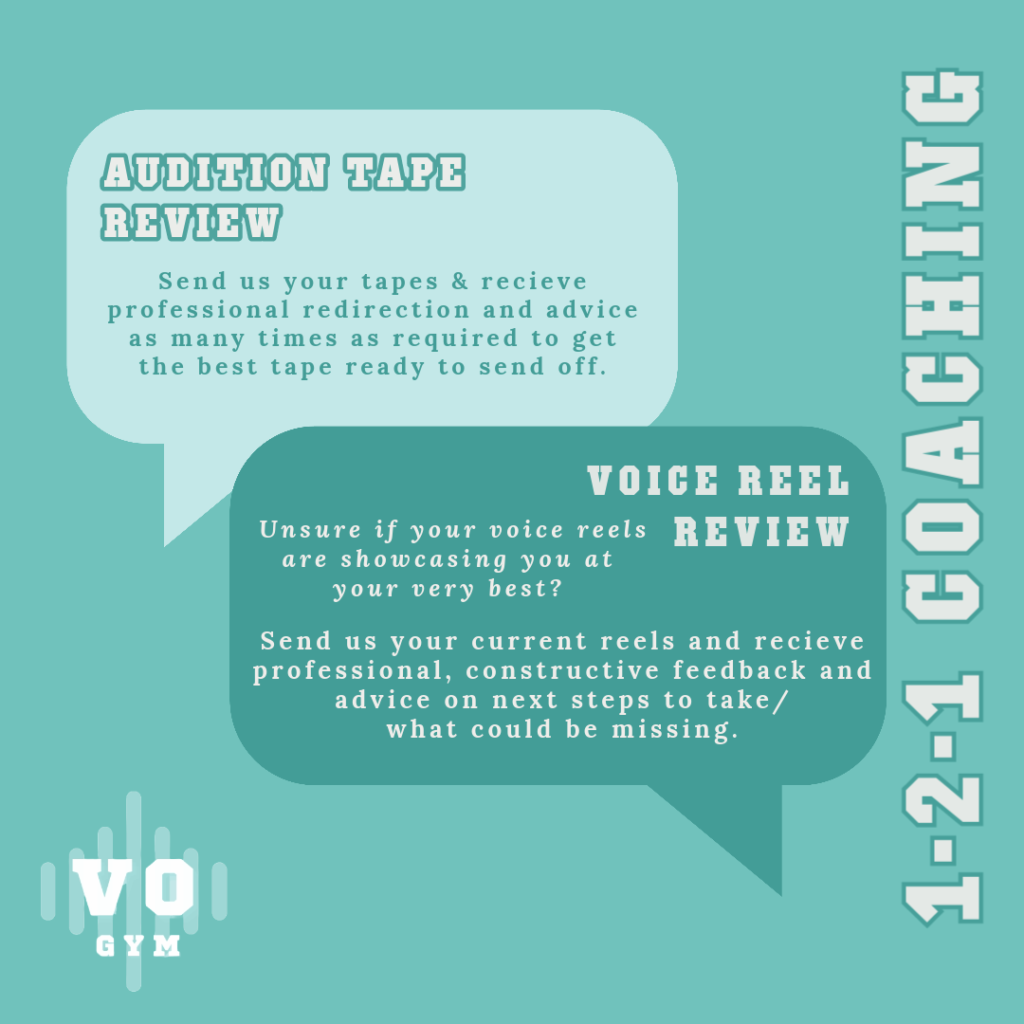 Are you preparing to get a voice reel recorded?
Your voice reel needs to showcase you at your BEST and most VERSATILE so we encourage anyone who is thinking of getting a voice reel done to have some professional coaching beforehand. 
We offer coaching in a 1-1 format before and after you get your dedicated scripts to get you 100% ready to showcase YOU in the best way possible. These days, most VO jobs cast directly from your voice reel so the investment in this is totally  worthwhile. 
Perhaps you are looking for a way to build skill and confidence with any form of public speaking?
We've worked with wonderful individuals working in a vast range of professions, from Therapists to Military Consultants, helping them learn skills and tips to work through any barriers, gain knowledge of how to break down large texts and learn vocal techniques for confident, professional vocal delivery. 
Send us a message using the below form to learn more or book in for your 1-1 with V.O. Gym!
If you don't get a response within 24 hours please directly email vogymenquiries@gmail.com